Meet the Triaxia Leadership Model
We spend a lot of time studying leadership to distill definition that would draw attention to the most important dimensions of the leader/follower dynamic (person/people/purpose) and concluded that leadership is a person influencing people to accomplish a noble purpose. Defining leadership this way allows us to focus on these critical components of the leadership equation and discuss them in a more robust fashion.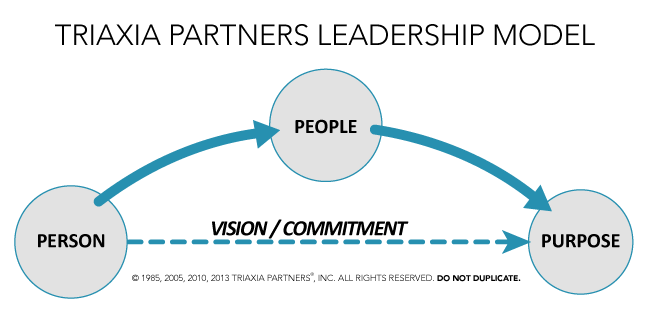 The Triaxia Leadership Model and content are copyright protected and are the property of Triaxia Partners®, Inc. Please contact us at info@triaxiapartners.com for permissions.
©1985, 1996, 2005, 2010, 2013 Triaxia Partners, Inc. Unauthorized use and/or duplication of these images and materials without express and written permission from Triaxia Partners, Inc. is strictly prohibited. Excerpts and links may be used, provided that full and clear credit is given to Triaxia Partners, Inc. with appropriate and specific direction to the original content.