Consultants in Strategy, Team, Leadership, and Organizational Development
Triaxia Partners® helps clients identify, ask, and answer their most important business questions.
HOW CAN WE HELP YOU

GROW

?
Team
Diagnostics &
Assessments
Team Diagnostics and Assessments that will take your team to a new level.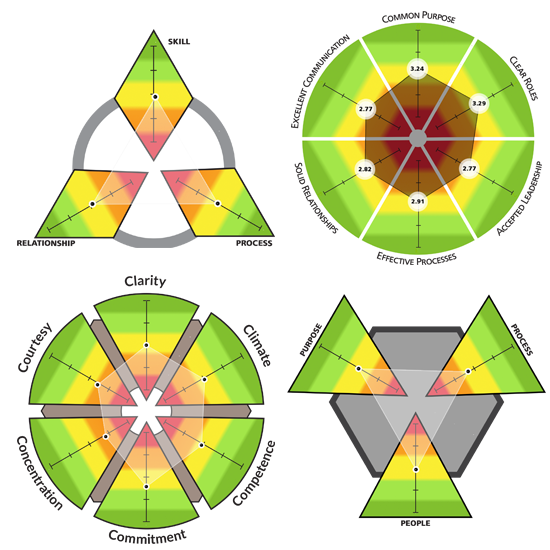 The Team Resources® family of online team diagnostics provides clear, informative reports that reveal your team's greatest strengths and hidden weaknesses. Each topic includes questions designed to help your team understand their results and begin a dialog on how to improve their team dynamic.
Governance
Cornerstone
Assessments

The Board Strength Survey Now Available from Governance Cornerstone
The Board Strength Survey is a robust and comprehensive online assessment that will highlight the path to increased governance effectiveness.
The
DISC Profile
System
Gain Powerful Insight into your Behavioral Style
This unique educational instrument is based on the time-tested DISC theory that provides powerful insights into your work and social style. It will enable you to discover and define how you view yourself and how you want others to see you. And through that process, you will learn more about the real you - a person who might be slightly different than you thought.
Organizational
Assessments
Gain new insight into your organizations greatest challenges and opportunities
The Organizational Profile®
The Organizational Profile provides a customized, efficient, and cost-effective method to measure and evaluate the climate in your organization.
The Organizational Change Profile®
The Organizational Change Profile helps clients to measure their culture and capabilities against the attributes of highly adaptive organizations allowing them to quickly identify areas that need to be strengthened in order to be more effective in changing environments.
The
PaceSetter
360°
Drive executive performance and motivate change.
The real test of a 360° assessment instrument is twofold:
valid factors (often called leadership competencies or success factors) that truly drive leadership performance
a report format that facilitates understanding, insight, and application
The PaceSetter 360° does exceptionally well in both areas.
With so many 360° multi-rater instruments in the marketplace, choosing the tool best suited for your needs can be difficult. This powerful executive assessment offers an array of options that set it apart in a very crowded field of competitors. Whether you prefer a standard or customized version, our unique state-of-the-art platform can adapt to your business needs. Our consultants will work with you to design and develop a flexible, tailored approach that will fit the unique needs of your organization